My fourteen-year-old Whitechin wandered off in August. He rarely left our apartment and when he did, it was in the form of a devious escape.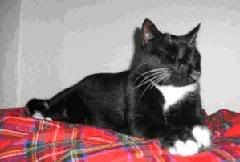 At the height of his best years, he weighed over 20 pounds and could easily jump to the top of a six to seven foot fence from a crouched stance on the ground. Anytime some one laid on the floor to watch television or do yoga or cut construction paper for school projects, it was his cue to circle around and head butt other foreheads with his own triangular wedgehead. He could butt hard enough to cause a headache and he took great feline pleasure in the skill.
He was always finely dressed to kill in a black and white tuxedo, white spats, white knee boots on his hind feet. A very presentable white belly, always perfectly flexed and ready for a vigorous scratching.
When he was a kitten, his favorite game was race around the house, tear into the kitchen and clamber up the back of whoever was cooking at the stove. This resulted in his landing in ratatouille marinara when he was around 3 months of age when he caught my mother by surprise. She ducked just as he reached her shoulders and he lost his footing and dropped feet first into the 5 quart Master Chef sauce pan.
He was wary of cooks after that, and his paws were slightly orange for weeks.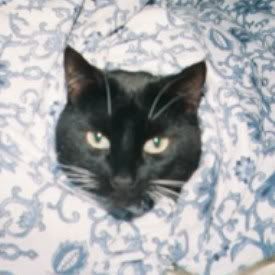 He had an overbite, his two canines always outside of his mouth; in later years, this caused a constant drool and one always knew where Whitechin slept at night because of the wet spot left behind.
Like me, his favorite ice cream was vanilla.
He was used to being an indoor/outdoor cat for most of his 14 years and when we moved back into an apartment, I know the enforced confinement of a second floor apartment weighed heavily on his vagabond's soul.
Occasionally he would wait by the front door and only occasionally, I would let him dash helter-skelter to the front foyer of the apartment and then to the outside, gulping fresh air, meowing loudly and joyfully, temporarily rid of our other pesky little dogs and irritating female cat (who had been his bed mate for so many years).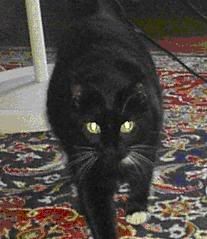 His final escape was around August first.
We searched for days and nights. He never meandered far. But this time he was gone.
No one has seen him. I think the nearby ravine beckoned, and a final mousing jaunt in the warm earth appealed. He was the best mouser I've ever seen. I'm an animal lover bar none, even mice, but there was something about Whitechin's devilish, calculating, deceptively lazy thrill of the hunt and triumphant presentation of his catches that taught me that even a domestic cat so calm and unfussy can have a heart as primordially violent as any cougar.
I make it easy on myself to imagine this last foray as an adventure that he craved, and that he is still embarked upon.
The truth is probably far harsher. He was quite sick with hyperthyroidism; his body increasingly ravaged, his muscles disappearing, his eyesight dimming. So I avoid the truth right now and think of him almost daily, coursing back and forth in the bushes, suddenly still, yellow eyes fixed, pretending his black and white tuxedo is actually the finest camouflage for tracking the wild rodents of unusual size.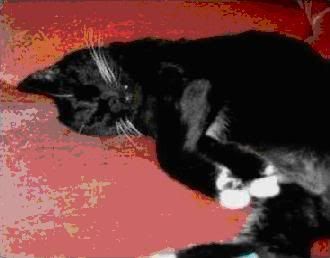 He was the man of the house for so many years.