I'll wheel in a veritable market basket of topics with this diary. Be forewarned, this is not an election diary, though I've loaded my basket with political issues from the aisles of healthcare entitlements, veterans issues, and such blue light specials as signified by touchstones and harbingers of the future.
Do not go gentle into that good night,
Old age should burn and rave at close of day;
Rage, rage against the dying of the light.
(crossposted at Dailykos)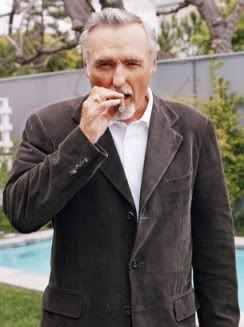 Are you familiar with that Ameriprise Financial television commercial featuring Dennis Hopper looking right at you through the screen, sometimes in a field throwing a book to the ground? Or on a beach, speaking of how baby boomers will not "go gentle into that good night" or some such silly thing about retirement and how the boomers will retire in ways yet to be imagined? I laugh a little as I hear this and it's a small, bitter laugh. This is the respectable seventy-year-old Dennis Hopper, the Dennis Hopper who has triumphed over an insanity of younger years in the sixties and seventies, of Easy Rider, Apocalypse Now, or True Grit fame, and literally hundreds of other roles as both actor and director - equally eccentric, or oddball, or sometimes just plain mercenary and profitable - it's all good.
Now, though, when I see Dennis onscreen, on television, I am reminded, uncomfortably so, of one of my own human touchstones.
There are touchstones in all of our lives. Things we see or touch, or recognize weekly, daily, or perhaps hourly; touchstones that reaffirm "normalcy" or at least some kind of status quo in our own small worlds. The status quo may be a comfortable one or not.
Touchstones can be positive or negative, or sometimes, just there. They are a warning, a herald - like amber lights at an intersection that warn the driver to proceed with caution. Or stop if there is still time to stop. I have had a few human touchstones. The friendly Bosnian clerk at the local QFC who has worked there for at least a dozen years. I try to stand in her checkout lane when I finish shopping. I can't tell you why exactly - we've never had a long conversation. But I remember her kids when she first moved to Seattle, as they attended school with my daughters and learned excellent English within just a year. I remember when she started at the QFC in the early 90's and I often think to myself that she hasn't aged over the last decade, a phenomenon I consider extraordinary, given what must have been the harrowing transit between her war-torn country and a new life in the US.
I have another human touchstone, a man that I looked for on a daily basis on my way to work, up until I ended my recent year-long contract at a local software company. He's been a visual key for me, a part of my morning for the past year and now he appears to be gone.
Though wise men at their end know dark is right,
Because their words had forked no lightning they
Do not go gentle into that good night.
He is a gentleman who has stood on several street corners over the past year on the eastside of Lake Washington, in Bellevue, Redmond and Factoria, with a sign asking for donations or work or whatever someone is willing to offer. His sign also states that he is a Vet and is terminally ill. When I've had a spare fiver or ten dollar bill, I've offered it to him when the lights have been red at whatever intersection he's been at. He has the look of Dennis Hopper - in the shape of his face, in the slightly raspy, whiskered demeanor, though he is a smaller man in height and build. He also has the look of an Edward Hopper painterly subject and I smile as I make the unwitting name connection in my mind. His clothes are, at a first and superficial glance, more upscale than those of other folks looking for help on the corners and intersections of Seattle. He often wears khakis and an older worn twill windbreaker jacket. Even on the hotter days of this past summer, a Donegal tweed walking hat was perched on his head. It is that tweed hat, much like a late 1930's Fedora, though smaller, that brings Edward Hopper to my mind, I think. But if you look closely at this gentleman's face, his broken-down frame, and the occasional presence of a cheap walker nearby, you know that the words scrawled on his sign must be true - he is very ill.
I am shamed that I've never stopped to ask him why he's there and why he can't take advantage of public medical services offered, or why he's forced to ask for money in addition to any he might receive from Social Security or disability or veteran's benefits. Part of my rationalization over not delving further into his story is that I think I know some of the answers to my own questions. Part of it is that my own overload of bad economic factors, my current limited unemployment income, other dampening personal issues, and my overall inability to handle the details of my own life have made me reluctant to dive into anyone else's difficulties. In the past I've followed the mantra my mother used to repeat over and over again - "what doesn't kill you makes you stronger". But I've discovered a barrier in that road. I'm aware that in my own life, at this moment, I've run into that barrier. My emotional self-defense, my temporary reluctance to layer any additional stress onto what I've already built, has kicked in.
Good men, the last wave by, crying how bright
Their frail deeds might have danced in a green bay,
Rage, rage against the dying of the light.
Part of my reluctance, of course, is the poorly buried recognition that there is very little that separates his circumstance from mine. The unease of that sub-knowledge halts my natural curiosity and places a limit on the depth of my involvement in a stranger's life. This is all one-sided, of course, these mental gymnastics. He may not even care to share the details of his existence with a stranger.
So, I haven't talked with him. I don't know his history, his story, his illness, his future. Now it appears I may not have a chance to find out any further information on him, my Hopper-esque human touchstone.
I am a simple step closer to knowledge, I think, on why one stands on a street corner and asks for money. I believe I understand why asking for money from people in cars, who appear to have more than you, who are warm in their car heaters and their clothes, and who have destinations to go to and who can afford to wait for the light to change before proceeding to the next intersection, and the next, and who will continue to perform the same actions again tomorrow - when you may not be able to - I think I understand why this may be easier and simpler than filling out interminable forms at the local Public Health clinic. It may be simpler to stand in the heat and the cold and endure the stares, or perhaps the avoidance of glances, from strangers, than it is to be informed that it will be weeks before you can get in to see a doctor, where you will have to run through all the same information that you told the previous doctors you've seen in months previous. And the diagnosis will be the same. More tests, more undefinitive results, more non-answers from generalists and internists who have no specialty training and who see too many patients a day. I think, too, that standing on a street corner can eventually kill you or at least kill what spirit may be left inside. I write all this as if I know and yet I never had the courage to walk up and speak with my Dennis Hopper look-alike, my Edward Hopper subject. You'll note that I have laid false claim to this man. Perhaps we do that with all our human touchstones.
Wild men who caught and sang the sun in flight,
And learn, too late, they grieved it on its way,
Do not go gentle into that good night.
I'll grasp some author's license in this story and randomize a little on health and living and dying and how it feels to need care and have no resources.
I let my COBRA health insurance lapse a couple of years ago. I've mentioned this in earlier diaries and comments previously on this site. My premiums were high - over $700 a month at that time for coverage for a single adult with three children. I could not maintain this amount in addition to covering rent, utilities, car insurance, car payment, gas, and the various other items that are usual and customary expenses of parenting. I tried for about five months. On the sixth month, my payment was postmarked a day after the monthly deadline (I still believe it was the post office's mistake as I mailed it inside well before the last pickup on the day of the postmark deadline for that month's due payment) and COBRA dropped me. I didn't find out that I had been dropped until around 35 days after coverage had lapsed. This timing made me ineligible to seek coverage through an ex-employee alumni plan. If I had been notified by COBRA in a timely fashion that coverage had lapsed, I could have sought cheaper coverage with a higher deductible but less actual percentage coverage - it would have been something rather than nothing. I wound up with nothing and no options through any state-offered plan, as my actual gross income was too high for a family of four, but too low, of course to maintain any real coverage.
I've been paying for essential medicines and lab costs out of pocket for two years, an amount that runs on average around $300 a month. Both my daughter and I are hypothyroid and we take daily medicine (synthroid, or the less-effective generic, levothyroxine), depression medication, and treatment for ADD for my daughter. At the end of August this year, my contract ended, as I mentioned earlier in this diary. By mid-September, I had flat run out of money with the exception of the weekly unemployment checks that I am drawing for the first time in my adult life.
Stupidly, I discontinued our meds until I could afford to pay for the next round. For a refill on our synthroid medication, my daughter and I needed blood tests on the level of TSH (Thyroid Stimulating Hormone, a substance produced by the pituitary gland that in turn regulates the thyroid production of hormone - all essential elements of growth, life, metabolism, aging, cell production, and various other critical functions including regulation of other hormones in the body's adrenal glands). The calibration of synthroid for hypothyroid folks is one that is tested continuously, as certain things like weight gain or loss, menopause, other chronic illnesses, and various other things will affect how the body absorbs this critical hormone replacement. Testing of the amount of TSH is usually the first thing that determines what dosage of synthroid a hypothyroid affected individual should be on. The normal range - at least the range of TSH in the bloodstream that most labs and docs follow, is 0.5-5.5 mU/l. There is debate about that range in the endocrinology world. For what it's worth, that normal range is still the one most followed in the West.
By mid-October, both my daughter and I were feeling pretty damn lousy. We had been off meds for four to six weeks - four weeks in her case; six weeks for me. From early August to mid-October, I had gained some twenty pounds, a side effect of being off synthroid with no effective working metabolism. I have experienced this before when going off these meds - I knew it would happen. Stupid, stupid, stupid. In addition, each morning was painful. Joints hurt, my breath was short, I had absolutely no energy or motivation to get anything done or even started. So unlike me - my natural state when I'm healthy is one of fairly constant action and movement. I usually don't sleep a great deal. Now I'm sleeping up to eight hours a day and it's never refreshing sleep. Something was definitely wrong. I kept attributing my lack of motivation to an onset of anemia, which I also have (another fairly common side effect of hypothyroidism - there are so many as so be overwhelming to list). But I knew better.
Another side effect of being off meds is brain fog. Fuzzy thinking. Unfocused ideas. Slurred speech, blurred vision. Large muscle pain. Low-level headaches. Stomach pain and indigestion. Geez, the list is long - and I had every one of these nebulous symptoms in a huge way. I now know, I think, what it is like to feel really, really old. Not liking it at all.
Two weeks ago, I gave up and my daughter and I went to the Public Health clinic to see if we could book an appointment. Once there, they informed us that they would not even be taking appointments until after October 23rd, as they were booked up through October and at least half of November. The Public Health clinics take only two new patients a day during the weekdays, it seems. I was advised to call back in after the 23rd (which I have). If we had an urgent or critical need, we were advised to go to one of five eastside clinics or emergency rooms and make certain to fill out the financial forms indicating our lack of income. For immediate test results, we were told that the ER was likely our best choice for a quick prescription to start us back to health.
Two weeks ago Friday night, we made our reluctant way to the emergency room at Overlake Hospital in Bellevue Washington. I admit to feeling terrified - in a financial way. I have never been to an ER without insurance. I was uncertain what to expect in the way of treatment or questions.
They checked us in without much in the way of questioning. It was the quickest experience in an emergency room I have ever had - slow night in Bellevue and we were lucky. So strange.
Our blood work was done. In the hour we waited for the results, a financial aid adviser came in and took additional information on both my daughter and I. I have never, never had a more pleasant experience, oddly enough, and we were both treated with great courtesy and patience. The adviser assured me that the financial aid request forms she handed me were specifically for folks like us - folks with no current financial resources and no insurance, and that the number of working and out-of-work indigent is growing on almost an hourly basis in this high tech town. Many of them are like me - contract tech workers who are on forced leave due to contract and IRS regulations. Many of us are uninsured, because there is no affordable health insurance out there, available to families whose income is variable across the course of a year's time.
We had a positive experience. Would it have been so positive had we been a minority, or had our clothes been unwashed and ragged, or had I been a broken down veteran in a walker? Would we have been treated as well if we had been the least bit inarticulate about our symptoms or our condition? Or if we were non-native English speakers? Rhetorical questions, indeed.
Our test results returned. My TSH was ridiculously high, considering that normal range of 0.5-5.5. My doubly tested results were over 200 mU/l - the highest being 222.53. No wonder I felt like I was dying; my metabolism and thyroid gland is resting in peace - in fact, it has positively gone on vacation. My daughter's results were high but still within normal range. We were able to get prescriptions from the ER doctor that night for two months worth of synthroid - this should carry us through until our Public Health appointment in early December. I used my last $80 that week to purchase the meds. I'm thinking it may have saved my life.
The brain fog is slowly clearing. Financial aid papers I need to fill out to get some assistance with paying for that ER bill are still waiting for me to finish - my motivation and energy are still not up to speed. Gathering the mental and emotional resources to write this diary, to fill out more applications for jobs I need, to revise my resume again, to write that position-specific cover letter - focus, focus, focus, exme. Normally, it's easy for me to write on anything, about anything, for any reason. Now, not so much.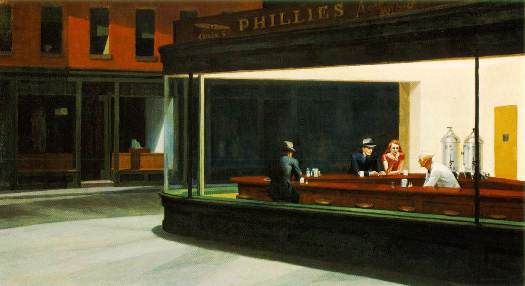 If we were to talk of entitlements as Democrats or liberals or progressives evoke the word, the definition, as found on wikipedia would be the following, or close to it:
"Entitlement is a guarantee of access to benefits because of rights, or by agreement through law."
Tell me why again the entitlement of healthcare for everyone in this country is not guaranteed and is not actionable by every politician immediately? Surely there is no greater threat to life, liberty, and the pursuit of happiness than illness and chronic health issues of this country's citizens, or the continued lack of access to affordable, reasonably priced and timed health care.
I'm trying to find irony in the fact that my only option to obtain immediate diagnosis and urgent health care is to go to an emergency room where the care and services are two, if not three, times the amount of seeing a public health physician.
Grave men, near death, who see with blinding sight
Blind eyes could blaze like meteors and be gay,
Rage, rage against the dying of the light.
Where has my Dennis/Edward Hopper human touchstone disappeared to? Is he still alive; is he in a public hospice somewhere? Has he found a better street corner? I can only think now that I have failed him. I think we have all failed him. I have failed myself.
And you, my father, there on the sad height,
Curse, bless, me now with your fierce tears, I pray.
Do not go gentle into that good night.
Rage, rage against the dying of the light.
(A virtual bow to Dylan Thomas
Do not go gentle into that good night)